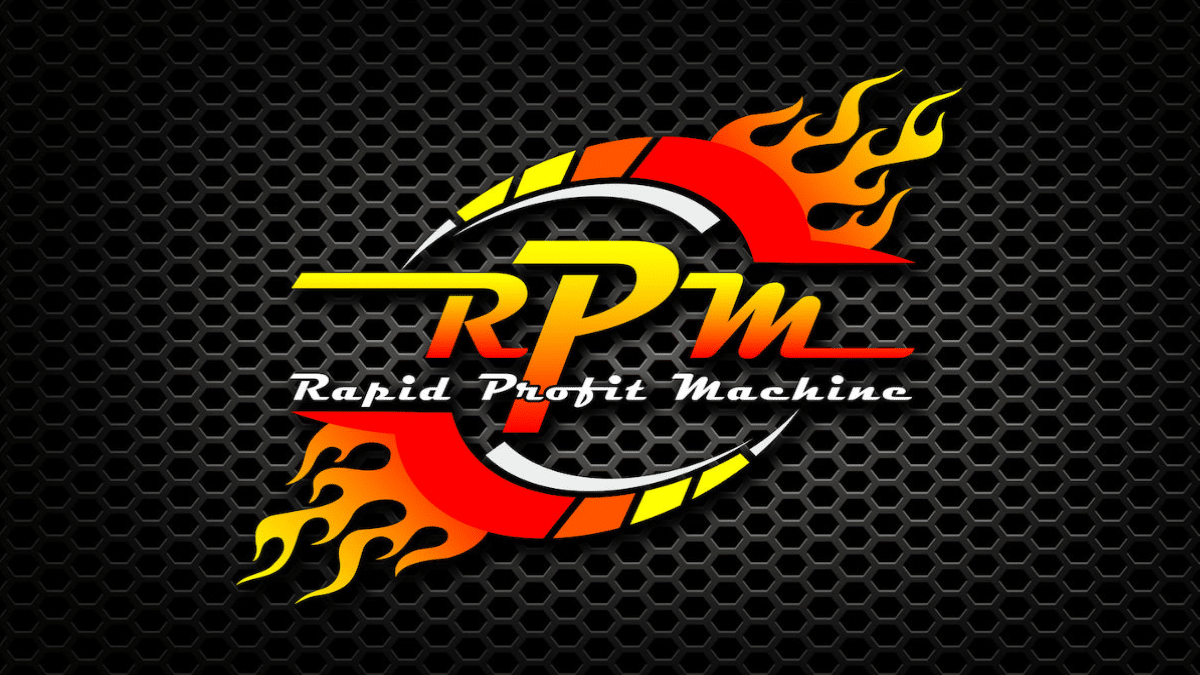 The Rapid Profit Machine is a free DFY affiliate marketing system based on the amazing Builderall all-in-one digital marketing platform.
It is yet another of those making money online membership programs focused on selling other people's products.
However, the great majority of affiliates promoting Rapid Profit Machine are also members who use their own affiliate link.
The program is intended to teach you how to be a "wealthy affiliate marketer," however affiliate marketing can be tough if not done correctly, and you may end up losing more money than you make if you are not cautious.
But before we get too deep.
In this Rapid Profit Machine review, we'll dive into the pros and cons of the program.
But before that, let's ask ourselves: Is affiliate marketing even a worthwhile business model?
On the one hand, the promise is great…
You don't have to create products, worry about fulfillment, customer service, or bad reviews.
Your only job is to get the right customers in front of the right offer, and take a commission when they buy.
And – theoretically – you can do it all in an hour a day from the beach.
Sounds simple, right?
Well, not really. Driving traffic (that's internet speak for getting customers) is single-handedly the hardest part of the entire marketing process.
Later in this review, we'll talk about all the different skills you need to drive traffic successfully.
For now, let's just say the promise doesn't really match up with reality.
At best, affiliate marketing is a job. You're working for someone else, selling their products, and at any time, they can change your commission structure or block you from selling their stuff entirely.
In this business, you don't really own or control anything. Since – for the most part – you're driving traffic (again, the hardest job of all) and sending it to someone else, you don't even get to keep the customers, who are the most valuable piece of the puzzle.
At worst, affiliate marketing is a pyramid scheme. There are certain – ahem – programs that charge you a monthly "membership fee", under the guise that you will learn how to be a "wealthy affiliate marketer".
Once you join, however, you find out the only way to really make money is by being an affiliate for that program.
That's pretty much the textbook definition of a pyramid scheme.
Now, let's say you really want that hour-a-day-work-from-the-beach lifestyle.
What if there was a way you could build a passive income stream that's actually passive?
An income stream that doesn't require:
Thousands of dollars and hundreds of hours before seeing your first dollar
Doing all the hard work of driving traffic to only get a tiny commission
Running your business on someone else's terms
An income stream that brings in consistent revenues every single month (from a couple thousand dollars to well over $10,000)?
An income stream you could actually build in your spare time, and grow as large or as small as you want to, without having to spend hours a day testing, tweaking, and risking your money in the hope you can finally start making sales?
If that sounds like something you'd be interested in, check out Digital Real Estate. 
This is like taking all the good parts from affiliate marketing (however few there are), and putting aside all the bad.
However, if you'd still like to know more about Rapid Profit Machine, keep reading.
Rapid Profit Machine Review: Overview
Product: Rapid Profit Machine
Creator: James Neville-Taylor
Launch Date: 2021-January-01
Niche: DFY Affiliate Marketing Funnel
Front-End Price: $0
Bonuses: Opt-in, Sales Page, Sales Page, Affiliate Training
What Is Rapid Profit Machine?
James Neville Taylor created the money-making affiliate marketing system Rapid Profit Machine. Without any technical or prior experience, Rapid Profit Machine practically transforms anyone become a high-paying super affiliate.
Rapid Profit Machine offers DFY landing pages, email sequences, and high-converting products with hardcoded affiliate links.
If you direct traffic to these landing pages, people will enter their email addresses to access a free training video. The Rapid Profit Machine then follows up on the leads and offers high ticket training and software programs on the backend. As a result, you're expected to generate a large number of commissions on autopilot.
As mentioned earlier, the system is completely DFY. You will also receive free training to help you become a successful affiliate marketer. There includes mindset training, traffic generation training using Google and Facebook retargeting, and solo ad training for even more high-quality traffic.
Who Is Rapid Profit Machine For?
This program is intended for both newbies to affiliate marketing and experienced marketers wishing to boost their income. It is recommended for the following people.
Affiliate Marketers
Entrepreneurs
Newbie Marketers
Digital Marketers
Advertisers
Website Owners
Bloggers
Solopreneurs
Who Is James Neville-Taylor?
James Neville-Taylor has been a successful entrepreneur in a variety of industries for over 10 years. He is passionate about conversion optimization and supporting others in achieving their goals.
He has dedicated himself to making it as easy as possible for anyone with no prior business experience or knowledge of affiliate marketing to start earning money online as quickly as possible. James starts with the basics of affiliate marketing.
He breaks things down into simple parts so that even total beginners may understand it. His personal experiences as a person who has struggled with depression and anxiety motivated him to develop this product.
It was hard for him to have any hope when he was at his lowest point in life. What about now? James motivates others by proving that they, too, can produce and support themselves!
Rapid Profit Machine Quick Recap
Remember that James is continuously adding new content, so if you're missing anything, you can always go back to the walk-through setup video for a refresher course.
FREE Affiliate Marketing Training
That, in my opinion, is over-delivery! Also, the training is absolutely free! To be honest, the affiliate marketing course is worth $500 to $1000 on its own. James will share lots of insights with you whether you are new to affiliate marketing or an experienced affiliate marketer.
Affiliate Marketing Basics
The Ninja Mind Hacks.
Solo Ads Marketing
Facebook Marketing
James can give you with high-quality traffic quickly if you need it. James provides highly targeted traffic in the online money-making niche, which can yield results quickly. It is not necessary to use a paid traffic strategy. It is accessible to those who want to use it.
What Can This System Do For You?
#1 – Run A Business
Rapid Profit Machine is a comprehensive turnkey system that allows you to start your own business in under 30 minutes. This system has completed all of the design and programming for you. You may start making money right away even without technical knowledge!
#2 – Set Up A Second Line Of Income Outside Of Your Day Job
Rapid Profit Machine makes this possible because it can be launched totally on autopilot. If you are already employed but want to build wealth or maybe replace your day job entirely with one that gives you far more freedom, this is a great way to generate an additional income stream.
#3 – It's 100% Passive Income

This is 100% passive income if you run it completely hands-free. There is no more work on your side required to maintain this generating revenue. This is an all-inclusive turnkey system that handles everything for you!
Promotional Materials For Your Rapid Profit Machine Funnel That Have Been Done For You
If you wish to promote Rapid Profit Machine, James provides banners, images, and video ads that will be available soon.
Kick-Start Call With James
James can help you start right away by giving you a 15-minute VIP call. James' trained customer service representatives are also here to assist you with any questions you may have.
See What You Get In This Amazing FREE Affiliate Program.

With a few simple steps and helpful walkthrough videos, you could have a fully operational RPM or through your Builderall affiliate sales funnels in less than 30 minutes!
You'll get completed opt-in and bridge pages, as well as a 15-day email follow-up series (30 emails in total) Super Affiliate and the world's number one Builderall affiliate offers world-class training.
In addition, you'll have exclusive access to a Facebook community where you can connect with thousands of other marketers. Furthermore, there is free live Masterclass training every Wednesday and Saturday at 12 p.m. EST (by the best marketers in the world).
Are There Any OTOs For Rapid Profit Machine?
You can choose from four RPM OTOs.
OTO 1: The Rapid Profit Machine Pro
If you upgrade to RPM Pro, which costs $29.97 per month (for the time being, but I assume it will shortly increase), you will receive a 100% commission on all four upsells. In addition, you will receive free VIP affiliate marketing training and tracking software!
OTO 2: Traffic Secrets Sources
The Rapid Profit Machine will help you get the most out of your new online business by giving you the high-quality traffic you need. This course will teach you EVERYTHING you need to know about James' secret traffic sources. From these sources, he earns more than $2500. The price is $27.
OTO 3: Taylored Income Streams Trifecta
This OTO provides you with instant access to three HIGH income converting income streams, plus 30 days of email sequences that have been created for you and can be easily downloaded into your Builderall account. There is currently a two-week follow-up attached to the main RPM funnel…
So, what's next? You won't be able to keep those leads warm for long if you don't send them follow-up sequences. With OTO 3, you'll get immediate access to three hot income streams that you can download immediately into your Builderall account and connect to your RPM with a single click.
All email follow-up for this funnel will be forwarded to you automatically. Simply connect and play. This is a great technology that James uses in his RPM system. This is an excellent deal that will save you energy, effort, and time. With this plug-and-play system, your leads will never go cold after the RPM funnel email follow-up ended. Plus, you'll earn FREE retargeting via James' paid ads! This OTO is $97.
OTO 4:Turbo Charge Upgrade
This is a great and powerful upgrade that grants you access to four effective lead generation software. You'll also get 7 FREE Breakthrough VIP Sessions with 7 to 9 Figure Entrepreneurs, which is worth thousands of dollars.
I've been in the online marketing industry for five years and have never seen a marketer deliver this much value for such a low price.
James will give you with his software suite for a small one-time fee. You will get his three powerful lead generation software for a small one-time purchase.
Plus, an additional lead generation partner software to help you generate more leads. Obviously, this software is worth hundreds of dollars every month, but you can have it for a low cost if you act now. His three software programs will turn your Facebook profile into a lead generation machine.
Turbo Networker
This software connects to and automates your Facebook outreach process with friends and prospects.
Post Prospector
It allows you to laser target goldmine posts before everyone else and take them instantly.
Engage Xtreme Live
The tool allows you to catch the attention of influencers by increasing engagement on Facebook Live. All three tools can be used to transform your Facebook profile into a lead generation machine. The cost is $297.
What Are The Income Streams Generated By The RPM Funnel?
100% Builderall commission for the first month, followed by a 30% recurring commission.
Builderall 2 Tier affiliate program allows you to get a 30% commission on affiliate sales that sign up under you.
Get 50% to 100% commission on all RPM upsells.
Other recurring affiliate programs are accessible for this niche, such as tracking software, ads, spy software, and more.
Is Rapid Profit Machine Scam?
So, is Rapid Profit Machine a scam? Not technically. You can make money with this program, but making money with affiliate marketing definitely isn't as easy as the company makes it sound.
Driving traffic is extremely difficult. In order to do it successfully, you need to at least understand all these things, if not be a ninja at them:
Copywriting
Google Ads
Facebook Ads
Content Writing
Website Building
Conversion Optimization
Automation
Email Marketing
Click Tracking
Retargeting/Remarketing
SEO
Backlinking
And a lot more.
There's a ton of work to be done upfront, no real guarantee of success, and – most importantly – the actual commissions are pretty small.
Now, there's nothing wrong with front-loading the work and making the money later.
But if you're grinding it out for 3 months and then your reward is a $50 commission, it's not really worth it.
What if, instead, you could do that same 3 months of work (in your spare time), and your reward was a $500 to $2,000 payment that came in every single month?
And what if you only needed 1 or 2 of the above skills to get started, instead of mastering all 12 before seeing your first dollar?
And what if you actually didn't need to wait 3 months? What if you could get started today and have your first payment in a week?
And what if you could double it next week?
Well, that's the power of Digital Real Estate. 
Your laptop and an internet connection is all you need.
Some of the most successful students in this program run their entire 6-figure businesses from:
A camper in the middle of the woods
A beach chair on the water in Mexico
A small villa in Greece
They're able to travel around, living their lives first, and focusing on their income second.
Because even if they stop working for an extended period of time, the money keeps coming in.
So adventure, memories, and experience are the top priority.
And they never have to worry about how to pay for the next trip, or consider asking for time off.
If this sounds more like the type of life you want to lead, just click here to find out more about Digital Real Estate.
Are There Alternatives To Rapid Profit Machine?
Yes, there are plenty of Affiliate Marketing programs and resources to choose from if you want to pursue this business model.  Here are just a few:
What Is My Top Recommendation For Making Money Online In 2023?
Our review team has spent months researching, reviewing, and vetting dozens of business models and thousands of programs.
While there may be no "perfect business", the research IS conclusive:
Digital Real Estate is the #1 online business model for those just starting out.
Whether you've never made a dollar online, or you've been in this space for a while but never really "made it," Digital Real Estate is for you.
Why?
1) It's Flexible: got an hour a day? You can do this. Ready to drop everything else and dive in full time? You can do this. Yes, the more time you put in, the faster you see results. But even with a little time each day, you can move the needle in a Digital Real Estate business.
And because this system is so flexible, you don't have to constantly be working to make more money. It's called PASSIVE INCOME because if you stop working, the money doesn't.
Imagine taking 3 months off to just tour around Europe, rent a cabin in the woods to write a book, hike the Appalachian Trail, or live on the beach and surf all day.
This is only possible if you have an income stream that's not tied to your time.
2) You Own & Control EVERYTHING: With Affiliate Marketing, you don't really own anything. You have no control over the quality of products. You don't even own customers.
Look at the fine print for most affiliate agreements. At any point, the company can change your commission structure, reduce your profit margins, or kick you out entirely.
With Digital Real Estate, you own the assets, which means you have all the power and all the control.
3) Little To No Startup Costs: It's possible to get into Digital Real Estate with zero dollars upfront. Because, using the strategies outlined in this program, you can get a client to pay you BEFORE spending a penny out of your own pocket…even before you do any work.
Even without getting paid in advance, you can have your first Digital Rental Property up, running, and generating profits for less than $100.
4) Easy To Duplicate: Ok, here's the best part: once you have your first Digital Rental Property up and running, you can literally DOUBLE your income with a few clicks, a couple keystrokes, and a single phone call (and you don't actually need the phone call).
Remember: each Digital Rental Property is worth $500 to $2,000 a month in semi-passive income (over 95% profit). Every time you decide to create another one and increase your income, it gets easier.
Because you have more knowledge, more experience, more results, and more momentum.
If you wanted to double your income with affiliate marketing, you'd have to double your traffic, double the average order size of each customer, OR double your commission rate. And, guaranteed that's a lot harder than a few clicks and a few minutes of your life.
5) Make Money Helping Real People: This part is what makes it all worth it. With affiliate marketing, you're selling the product with the best commission rate, NOT the one that's going to improve the most people's lives.
And that makes it pretty hard to sleep at night.
But with Digital Real Estate, you're actually helping people by solving your clients' biggest problem:
Small, local businesses need more customers, and with Digital Real Estate, you are unleashing a flood of happy, paying customers for these businesses.
You make money by helping them make money.
Not a big, faceless corporation either…a small business owner who's using that money to put food on the table for their family, start a college fund for their kids, or take care of a sick parent.
Once you see how Digital Real Estate makes a real impact in the lives of real people, you'll sleep like a baby with a big smile on your face.
Now, the choice is yours. You could continue browsing, looking at opportunities like Rapid Profit Machine which could one day make you money.
You could continue researching, never making a decision.
OR, you could take a look inside, consider what you really want, and join a program that makes your dreams a reality. At the same time, joining a community of over 2,000 successful students that are living life on their own terms thanks to Digital Real Estate.
A consistent, reliable, semi-passive stream of income that doesn't depend on you or your time to keep producing profits.
All while genuinely helping real people who are grateful and happy to pay for it.
If this sounds more like what you want out of life (or if you just want some nice side income), click here to learn more about Digital Real Estate.